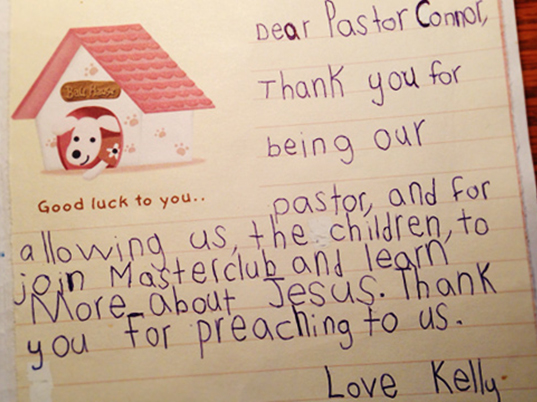 I received a wonderful little handmade card earlier this year from "Kelly." She is a little girl who has started coming to our children's ministry on Wednesday evenings as a result of our summer Open House Outreach BBQ.
I always enjoy cards and notes from kids—they really help to encourage a preacher and keep him focused on the work of God. They can remind you why you are here and what you are called to do. "Kelly" has excellent penmanship, good sentence structure and a sweet spirit. But what struck most were her words: "Thank you… for allowing us, the children, to join Master Club and learn More about Jesus."
I got to thinking, is there anything more important in all the world than this? Would you agree that to learn "More about Jesus" rises above the subjects of math, history, English (or French). Would it not surpass the learning of physics, calculus, literature, or career development? In fact, would there be any subject that would be of more eternal value and earthly value than to learn "More about Jesus"?
I would like to take a few blog posts to share with you a message God gave me through the reading of that card: More about Jesus…
More of His Person
Just who is Jesus? Our current society certainly has no idea. They have done about everything possible to marginalize Jesus Christ into a corner of obscurity. When an old man in red shoes retires (the pope) well, he is newsworthy, but Jesus Christ? Don't mention His Name, don't pray in His Name… in fact don't use His Name at all unless you are angry and want to curse.
In the religious realm, Jesus is just another teacher, another prophet, a man with a vision. You can line Him up with other prophet/teachers—Budha, Mohammed, Joseph Smith, Abraham, Moses, or a multitude of other religious personalities. People ignore the impact of His person upon the world, even the simple fact that we track the years of our passage upon this planet by a recognition of His birth. But He can never be lumped together with mere human leaders or prophets or political figures, for He is far above any mere man. So we come back to our question: Who is Jesus? What is there about His Person that we can learn?
He Is God
In the beginning was the Word, and the Word was with God, and the Word was God. The same was in the beginning with God.  All things were made by him; and without him was not any thing made that was made. In him was life; and the life was the light of men. And the light shineth in darkness; and the darkness comprehended it not. And the Word was made flesh, and dwelt among us, (and we beheld his glory, the glory as of the only begotten of the Father,) full of grace and truth.—John 1:1–5, 14
And without controversy great is the mystery of godliness: God was manifest in the flesh, justified in the Spirit, seen of angels, preached unto the Gentiles, believed on in the world, received up into glory.—1 Timothy 3:16
This of course, is the great stumbling block for mankind. We will tolerate a baby in a stable, a wandering teacher who could stir up the status quo, a tragic martyr, misunderstood, dying a terrible death. But God? No, that would demand to much from us, we would actually have to pay attention and… worship Him as God. But the world's opinion changes nothing—Jesus Christ is indeed God manifest in the flesh.
He Is the Only Saviour
The human race has a huge problem. It is not greenhouse gasses, global warming, economic instability, or political meltdown around our globe. Our problem is sin—and the fruit of that sin, death—physical, spiritual, and one day eternal (Romans 3:10, 23; 5:12; 6:23). Every human born on this planet has this huge problem with sin, there are no exceptions and there is nothing we can do to rid ourselves of this sin by our own efforts (Ephesians 2:8–9; Titus 3:5).
But that is why the Lord Jesus Christ came to earth, to do for us what we can never, ever do for ourselves. John the Baptist announced the Lord's ministry in John 1:29, "Behold the Lamb of God, which taketh away the sin of the world." The Lord Jesus Himself said: "For the Son of man is come to seek and to save that which was lost" (Luke 19:10).
Jesus saith unto him, I am the way, the truth, and the life: no man cometh unto the Father, but by me.—John 14:6
Neither is there salvation in any other: for there is none other name under heaven given among men, whereby we must be saved.—Acts 4:12
But God commendeth his love toward us, in that, while we were yet sinners, Christ died for us.—Romans 5:8
For he hath made him to be sin for us, who knew no sin; that we might be made the righteousness of God in him.—2 Corinthians 5:21
There really is so much more we can learn about the Person of Jesus Christ. He is from everlasting to everlasting, the beginning and the ending, He is the same yesterday, today, and forever. He is God the Son, co-equal with God the Father and God the Holy Spirit. Which means He is just, holy, perfect, love, merciful, without sin, full of grace and truth. There has never been another like Him, for He is the only God and the only One worthy of worship.
And they sung a new song, saying, Thou art worthy to take the book, and to open the seals thereof: for thou wast slain, and hast redeemed us to God by thy blood out of every kindred, and tongue, and people, and nation; And hast made us unto our God kings and priests: and we shall reign on the earth. And I beheld, and I heard the voice of many angels round about the throne and the beasts and the elders: and the number of them was ten thousand times ten thousand, and thousands of thousands; Saying with a loud voice, Worthy is the Lamb that was slain to receive power, and riches, and wisdom, and strength, and honour, and glory, and blessing. And every creature which is in heaven, and on the earth, and under the earth, and such as are in the sea, and all that are in them, heard I saying, Blessing, and honour, and glory, and power, be unto him that sitteth upon the throne, and unto the Lamb for ever and ever. And the four beasts said, Amen. And the four and twenty elders fell down and worshipped him that liveth for ever and ever.—Revelation 5:9–14
Thank you Kelly, for your card. Your words settled in my mind and heart: more about Jesus. In this Christ-rejecting world in which we now live, oh how we must learn more about Jesus and His Person.
This is part one of this article. Click here to read part two, three, or four.